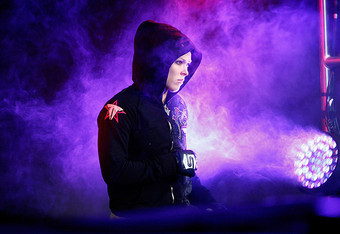 If you have a spare seven minutes, do yourself a favor and watch Strikeforce women's bantamweight champion Ronda Rousey's five professional MMA victories.
When you're done with your viewing, you'll come away knowing that she is really, really good at one thing: clamping on some of the nastiest armbars in not just the women's division, but in all of MMA.
While it is true that Rousey has run through her competition, going 5-0 and claiming the Strikeforce championship without ever leaving the first round, it's also true that she comes across as a one-dimensional fighter at this point in her career.
In her last few fights, her opponents have known exactly what she was going to do but were powerless to stop it. That's a talent that few have, an exception to the rule of modern-day MMA.
Expect that to change soon, because for the first time in her MMA career, Rousey is going to leave the confines of her home camp in Los Angeles to travel north and work with the Cesar Gracie fight team.
Rousey recently told MMAWeekly Radio:
Yeah, I'm going up there from the 3rd to the 16th (of April) and it's going to be the first time ever since I started doing MMA that I'm going to be training for an actual extended period of time away from my core camp, who I've always been with.
Rousey briefly spent time working with Nick Diaz prior to her fight with Miesha Tate, but it was just that; a brief time.
However, spending an extended amount of time with Diaz and the entire Gracie team will surely make Rousey, an accomplished judo player, a more well-rounded MMA fighter. It will also give her future opponents another set of skills to worry about.
As Rousey said of the Gracie team:
They're good at a bunch of things that I need to work on so I'm super excited.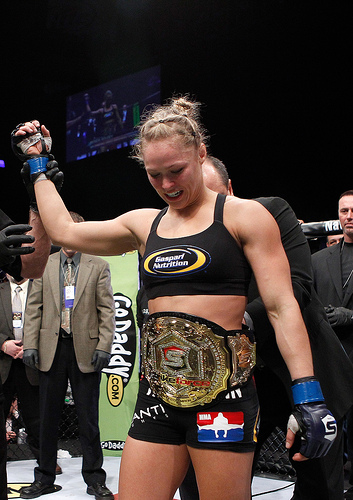 Rousey already has a bit of Diaz brothers-type swagger in her approach to fighting, and if she can add some of their striking style or jiu-jitsu skill to her arsenal, she'll become all the more dominant.
Another thing to keep in mind is that the 25-year-old Rousey is still relatively new to the MMA game, launching her MMA career in 2010. With the skills she has from her time practicing judo, to the skills she will develop while training with one of the strongest teams in MMA, it's not to hard to imagine her becoming the female fighter that takes WMMA to the next level.
Article by BleacherReport

Leave your comments on post
comments